Have you ever been wondering where does your time go? Today I'll try to discover who steals your precious time. Let's take a look at the list of the most common time wasters and try to figure out how you can possibly cope with them. Happy reading!
1. Scrolling on social media
These days a lot of people have a big issue with unconsciously scrolling through social media. It's such a huge time waster! No wonder it makes people feel guilty and remorse about this practice. They scrolling mindlessly instead of accomplishing the things that are valuable most to them.
How to overcome this problem?
The most important thing is to notice as much moments as it's possible when you are losing control and scrolling your social media feed pointlessly. You can also make a list of activities you could do instead if you want. This should help you a lot.
2. Checking notifications all the time
There's probably nothing more disturbing than the constant stream of distructing sounds we receive from our email accounts, Facebook, Instagram etc. These informations and reminders reach us in random time when we don't actually need them to engage our attention.
How can you overcome this?
My advice for you is to take control of your time. Make a decision if and when you'll take care of notifications you recieve. Turn them off. Then set aside a time frame to look at your notifications and then respond to them in a specified time.
3. Multitasking
Why and how multitasking affects productivity? To be productive our brains need to focus on only one task at a time. Doing many things at once could distract us and may have a really bad influence for our efficiency.
How can you overcome this?
Try to focus on doing one thing at a time. When you're doing something that requires thinking, don't do anything else. Once you've completed one piece of work, then you can move on to the next one.
4 & 5. Taking action without planning and/or setting wrong goals
If you don't know where you are going, any road will get you there. Lewis Carroll
How can you overcome this?
Determine and write down a clear vision of your future. Then try to divide your big goals into small steps. You can read more about planning and list-making in my previous post about increasing productivity by creating better TO-DO lists.
6. Overthinking
I've been trying to stop myself from overthinking for YEARS. I was almost constantly thinking about things over and over again and stressing myself out. I was feeling lack of energy, anxiety and almost depressed. Long story short, these stressful thoughts made me mentally exhausted.
How can you overcome this?
Most of all give yourself time. Don't be so harsh on yourself and don't fight with your thoughts. I found meditation and deep breathing exercises very usefull.
7. Pointless conversations
Sometimes we get caught up in discusionss that might lead to useless small talk, disputes or even arguments. It could be not only a huge waste of time but even a cause of stress when these talks affect on your relationships in a very destructive way.
More time wasters examples
negative thinking and whining
poor sleep quality
perfectionism
procrastination.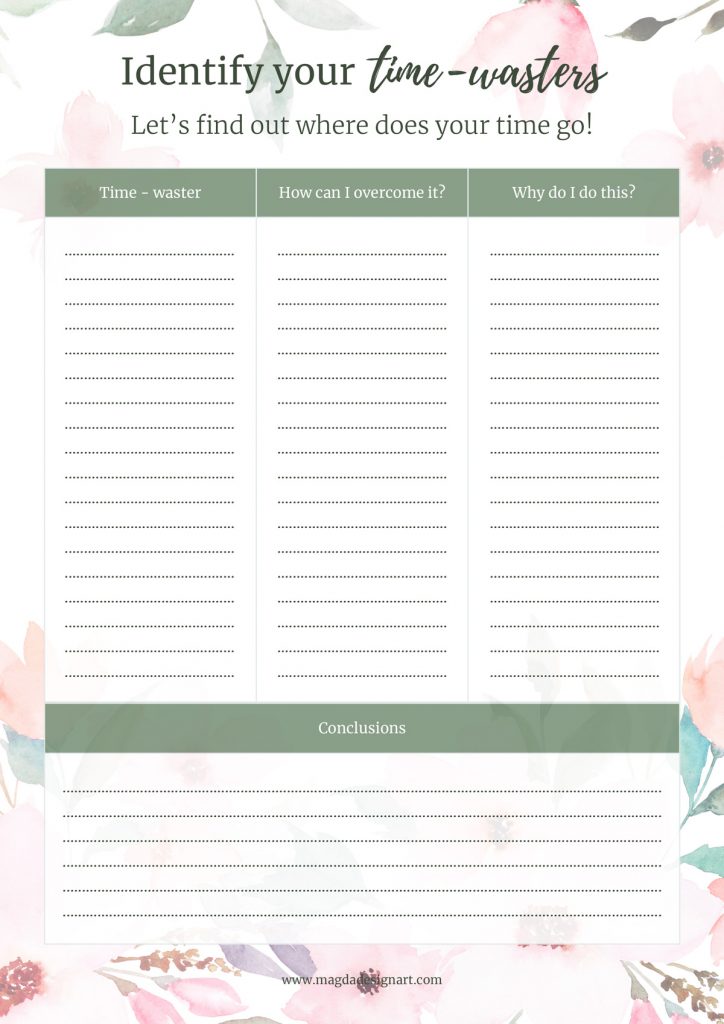 >>Download totally free floral time wasters worksheet HERE<<
Have you discovered where and how is your time wasted? Leave a comment and share with me which time wasters you've noticed in your life!
Love, M.